Stiiiiiiiiill no updates on exchanging/completing. I've told the estate agents they're secretly dragging it out on purpose because they love me dropping in on them all the time for updates…
I've always assumed that the kitchen will be the first big project I tackle in the new flat but haven't been sure whether I'd upgrade it straight away or live with it for a while before doing it up. It's looking increasingly like it will make more sense to take it on before I move though.
As I'll be putting a new boiler on the wall it'd apparently be easiest to put it on to a finished wall rather than try to plaster/redecorate around it later. Also, to fit said boiler, I need to rip out the oven/hob which will leave the flat without proper cooking facilities. Much as I love takeaway (A LOT) it probably isn't financially or nutritionally responsible to live on it for a while! I looked at some portable ovens/hobs but a properly fitted and functional oven would just be so much easier.
As with all things, I'm drawn to grey kitchens. I like moody dark ones and fresh bright ones so the tuxedo kitchen (who knew that was a thing?!) seems to fit the bill, combining dark base cabinets with lighter wall cabinets/shelves.
I first saw this look on House*Tweaking where Dana created a gorgeous kitchen with IKEA cabinets (seriously, it is unrecognisable from the 'before' pictures):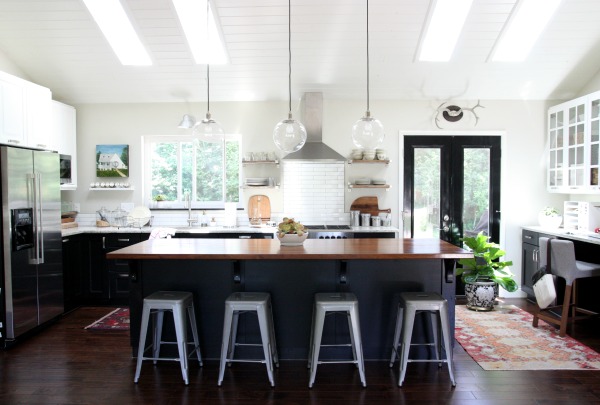 I love dark cabinets (and hopefully marks and fingerprints wouldn't show up on them so much) but as my kitchen is quite small I'm worried too many dark cupboards will make it gloomy and sad.
One option I'm looking at to balance the moody cupboards is a gloss finish for the doors to reflect the light and brighten up the kitchen.
I had hoped I could reuse the existing cupboard frames but quite a few of the shelves and surrounds appear to be water-damaged with the laminate top layer coming away from the core. I'll also need to move the oven to a more suitable location which means the units and worktop will have to be rejigged anyway so I don't think the existing bits are salvageable.
On the walls, I'd love to use open shelving instead of cabinets (as seen here on Young House Love and Dana's kitchen ) so the kitchen doesn't feel too closed in. I'm not entirely sure that a) the cats won't try climbing on them and knock stuff off them, b) my big collection of stuff will fit, and c) it won't just look like a big scruffy mess (I'm definitely a fan of the 'hide all the mess where you can't see it' approach to home decor). Hmmm still got to ponder that one.
On my mood board below I've flung some of the more colourful accessories I already have to break up the grey (and I'd have pictures and recipe books, not kids' books!).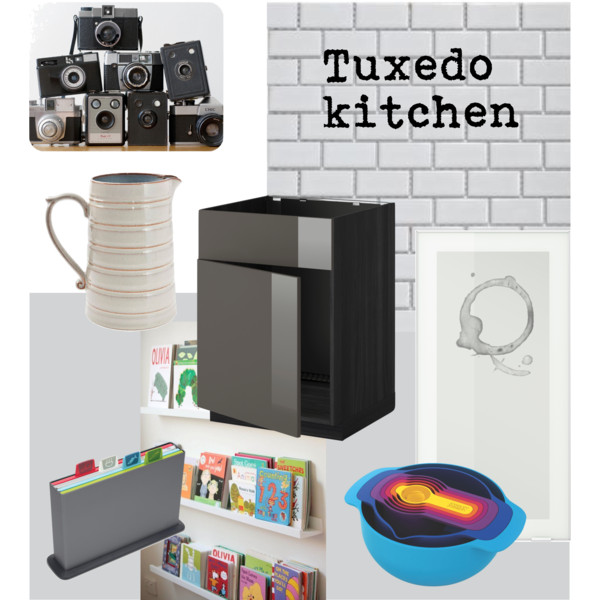 The blue carpet, fake tile-effect wallpaper and brooding 80s tiles will all need to go too as they are not my taste and fairly battered.
In their place I'm thinking practical (and cheap) lino/laminate flooring, painted walls and classic white subway tiles.
I've been playing around with the online IKEA Kitchen Planner (probably my favourite bit of the internet) to come up with a few options so I'll share those with you in a future post. In the meantime you can take a look at my kitchen Pinterest board if you want to get more of a feel for the style I'm after.
I originally drafted this post last weekend. I was chatting to one of my besties today and she said "Have you decided on the important stuff like units and tiles? Is it all grey?" She knows me so well…
Jo
Kitchen photo by Dana Miller for House*Tweaking